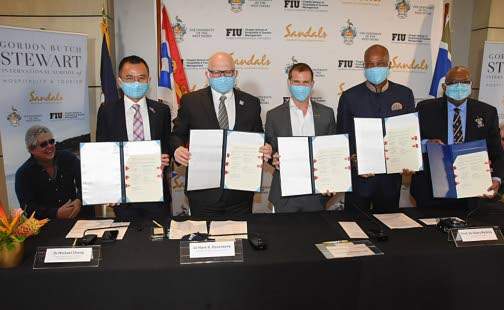 Gordon 'Butch' Stewart tourism school officially launched at MOU signing
A memorandum of understanding (MOU) was signed yesterday forming a high-powered partnership agreeing to establish the Gordon "Butch" Stewart International School of Hospitality and Tourism that will train the next generation of Caribbean industry leaders and immortalise its greatest icon.
It is the intention to make the eponymous school "like nothing the world has ever seen", vowed Adam Stewart, executive chairman of Sandals Resorts International (SRI), at the signing ceremony in the upscale AC Hotel by Marriott near New Kingston.
SRI is partnering with the Chaplin School of Hospitality & Tourism Management of the Florida International University (FIU) - Adam's alma mater - and the Mona School of Business and Management (MSBM) of The University of the West Indies (UWI) to establish the Gordon "Butch" Stewart international school.
Read the full story at https://www.jamaicaobserver.com/news/gordon-butch-stewart-tourism-school...